I have been so busy lately. I feel like I just run, run, run, and well, I just like sleeping a normal amount of sleep every night. I have concluded that there are just not enough hours in a day, and this whole working thing
really
interferes with my blogging life.
Anyway.
Today is my very last post for My Harry Potter Fix.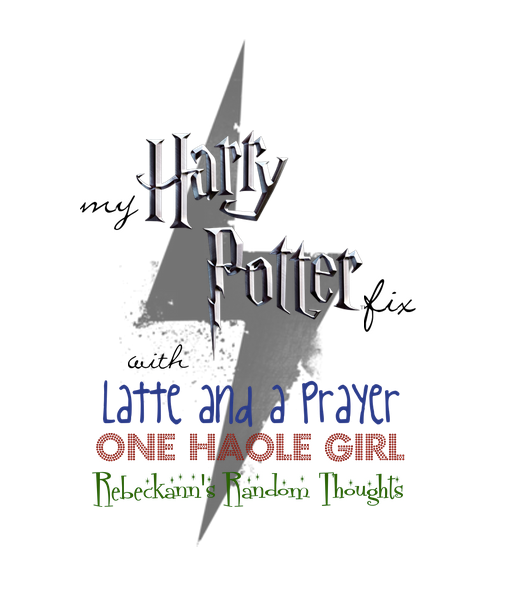 And as is extremely fitting, my last post will be about the last Harry Potter book:
The Deathly Hallows
.
Likes:
~I enjoy the continued hunt for the Horcruxes. There's something very special about Hermione, Harry, and Ron off on their own.
~Though it's evident in all of the stories, I do love Hermione's brilliance. I love that she was prepared to leave in a flash. The spell she put on her small beaded bag so that she has pretty much everything possible inside of it is just amazing.
~I LOVE Ron & Hermione's first kiss! It's so perfect, too. They just finish destroying another Horcrux, and bam! And for goodness sakes, it was about time! :)
~The battle scenes are so amazing, exciting, and awful. Perfect story telling. One of my favorite parts is when Professor McGonagall sends the statues out to protect the school. She's pretty much giddy with excitement about using the spell.
I also love when Molly kills Bellatrix.
~I am so glad that we find out more about Snape, and what was
actually
going on with him all of those years.
Dislikes:
~It drives me nuts that in the movie version, Harry attends Bill and Fleur's wedding as himself. Does that annoy anyone else?? It makes NO SENSE for Harry Potter to be at this wedding in such troubling times. Hence, why J.K. Rowling writes that they make a Polyjuice potion of a muggle kid with red hair so he can pass for a Weasley cousin. End rant.
~Dobby's death makes me cry every time. I honestly don't think it was necessary for him to die.
~I hate that so many characters we love die in this book.
~It is so sad that it is the end of the series.
I could probably go on for days about all of the things I love and don't love about this book. BUT I'll end there. If anyone wants to, feel free to write your own
Deathly Hallows
post, and share it in the links!
With that, I bid the My Harry Potter Fix link-up adieu.
Before I go, my friend,
Jane from Poppiness
and some other bloggers are having a Snowflake Swap. You should totally go over and sign up! I did! :)