A year ago today, Cory Monteith passed away. Unless you've been living under a rock, you know that Cory played the beloved character, Finn Hudson, on Fox Network's
Glee
.
It seems to have become a summer ritual for me to login to Netflix and watch
Glee
from the very beginning. This summer, they've added Season 4 to their instant streaming. Watching season 4 is torturous for a few reasons: 1) Season 4 pretty much sucked. 2) Seeing it now
knowing
that it's Cory's last season is really weird. There are certain things that Finn says and does that hit you in a whole new way knowing that he won't be back for the next season.
Anyway, I don't know why Cory's death has had such an impact on me. Perhaps, it's because we were both born in the same year. It may be borderline obsessive, but no matter what, it still gets to me. In honor of Cory, I decided to compile some of my favorite Finn moments from the show (in no particular order).
"Furt" Season 2
I LOVE this episode, also known as Burt and Carol's wedding. As Kurt's stepbrother, Finn and the Glee Club sing "Just the Way You Are" for Kurt. Finn and Kurt even share a dance after having some difficulty at school while Kurt was trying to teach Finn and his dad how to dance at the wedding.
"The Sue Sylvester Shuffle" Season 2
Sue Sylvester, coach of the McKinley High Cheerios, wants to shoot Brittany out of a cannon to up the excitement of her cheer leading performance. Meanwhile, the football team is forced to join the Glee Club as a way to bring peace between the two. They will be doing their own half-time show with a mash-up of "Thriller/Heads Will Roll". Realizing they really need Brittany, Santana, and Quinn to perform with them. Finn runs off to stop them from going to compete with the Cheerios.

(Excuse the video quality, but it gets my point across.)
"New York" Season 2
The Glee Club goes to Nationals in New York City. Rachel and Finn have been broken up, and he's been trying to get her back. At the end of the performance of "Pretending," they share an amazing kiss...which may or may not have lost them the Nationals competition. But who cares? I always vote for true love! :)
"Yes/No" Season 3
Ok, I know people got their panties in a knot over this one because Finn proposes to Rachel. Yes, I know they're in high school. Yes, it's unrealistic, but it's TV FOR GOODNESS SAKE! Didn't these people ever watch Saved by the Bell? Anyway, it's another of my favorite moments, and so I'm sharing it anyway. :-p
"Prom-asaurus" Season 3
Rachel (who was not on the ballot) wins prom queen along side prom king, Finn. I love every word he says to her after she wins....
"Good-Bye" Season 3
Rachel thinks that she and Finn are heading off to their wedding after their big win at Nationals. Devastatingly to her (and me! lol), Finn breaks up with her instead. HOWEVER, it's what he says that I love. I honestly sob through most of this episode...especially after Cory's passing. Knowing that Finn and Rachel can never be together again is too much to handle....so yeah, if you're a fan, watch at your own risk.
(Oh yeah, and I know this video quality also sucks, but I couldn't watch it anyway so.....)
"Feud" Season 4
Ok, yes, the Finchel relationship is somewhat complicated, and at this point, they are not together. BUT Santana discovers that Rachel's current boyfriend, Brody, is a male escort. She sets up an appointment, and Finn is there to solve the problem. If you don't watch the video, the part that makes me swoon...and sob...is when Finn tells Brody to "stay away from my future wife."

(Sorry about the captions in the video.)
Also from this episode, Finn and Will along with some of the other boys of New Directions perform a mash-up of "Bye, Bye, Bye" by N*sync and "I Want it That Way" by the Backstreet Boys. Umm...this teen of the 90s says, "YESSSS!!!" Unfortunately, Finn and Will are in a bit of a feud because Finn kind of kissed Emma when she was hysterical. But whatever.
Those are just some of my favorite Finn moments. I had a few more noted, and I would love to share more. I'll be honest, though, it wasn't as easy to find them as I thought it would be. Obviously, any song he sings with Rachel is at the top of my list, and "Don't Stop Believing" is also another high ranking contender. BUT I have done plenty of posts about some of those before, and chose not to bombard you all with them again. I do leave you with this one last thing.
"The Quarterback" Season 5
Also known as the tribute to Finn/Cory. I downloaded a few of the songs, and the entire episode because part of the money was donated to a foundation that helps people with addiction. I watch this episode when I need a good cry. Seriously, I don't think I'll ever be able to watch it without crying. The emotion from the cast is so genuine. You can actually tell it's not just the characters mourning Finn, it's the real actors mourning Cory. While it's not a moment directly involving Finn, it's Rachel's tribute to him.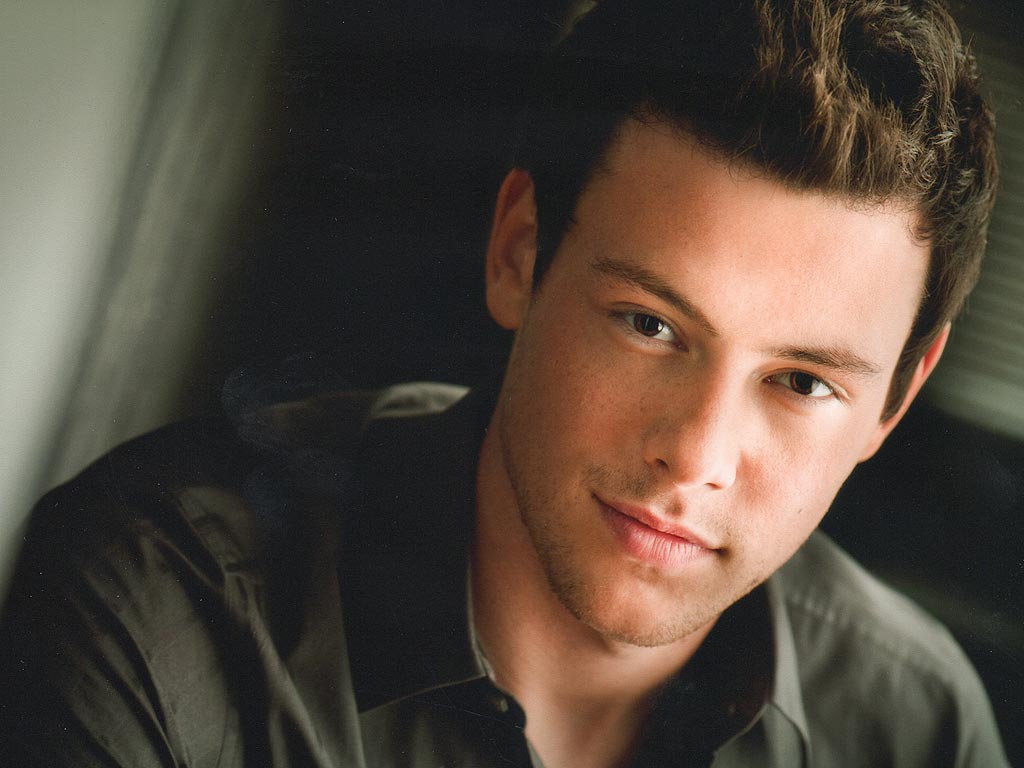 RIP Cory Monteith 5/11/82-7/13/13