This is officially the last book I was able to read on my summer vacation. :( It's tragic. I still have quite a long list of books I want to read, and I hope that I can do a better job of finding time to read during this school year!
Here's the synopsis from Goodreads.com:
Despite the tumor-shrinking medical miracle that has bought her a few years, Hazel has never been anything but terminal, her final chapter inscribed upon diagnosis. But when a gorgeous plot twist named Augustus Waters suddenly appears at Cancer Kid Support Group, Hazel's story is about to be completely rewritten.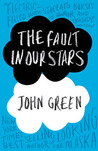 I really enjoyed reading this book. I actually finished it in a couple of days. The Fault in Our Stars brought tears to my eyes. I feel that an author has done his or her job when your emotions flow! I was able to connect with Hazel and follow her on her journey.
I bought this book with the intention of adding it to my classroom library because I had heard students talk about it in the past. I will NOT be adding it, though, there is content that I do not find appropriate for 6th grade students, and I will leave those decisions up to their parents.
I did find that Hazel and Augustus are perhaps too smart or wise for their years. They do seem like adult versions of teenagers, quoting difficult material, and being almost philosophic. I'm not saying it's not possible, I'm just saying it's not quite like any teenagers that I've even known!
I would certainly recommend this book, though, and I would like to see the movie!