I really enjoy writing these monthly book reviews. It helps motivate me to keep reading, and it's WAY better than writing a post for each book I read. I've been reading as much as I can this summer, and I'm sure
everyone
I would get annoyed with a separate post for each book. Now that school has started up again, I'll probably be reading less, but my Audible subscription is back again (I suspended my account for the summer), so at least I'll get to listen to books on my commute!
Spelled
by
Betsy Schow
My rating:
4 of 5 stars
I really enjoyed this book! It's one of the books that I read very quickly this summer!
While I did find myself trying to fit the story to the original Wizard of Oz tale, I found that it doesn't work! It's just a completely new story. There are Wizard of Oz elements thrown in with many other fairy tale references, characters, and creatures. I enjoyed following Dorthea through the story and how she changed and grew. Definitely a fun read! I actually decided to put this one in my classroom library. It's still pretty new, so it's not listed as an AR (Accelerated Reader) book yet, but I'm hoping that my students who just love to read will enjoy it as much as I did. Plus, I did use my Barnes & Noble Educator's card to get a discount when I bought it, so I felt like I should at least put
one
of the books I bought in my classroom......
These next three books came in a set that I purchased with my bonus points from Scholastic! It almost feels like cheating to call them three separate books....THEY ARE three separate books....but they were short, quick, and easy reads. I read them all easily in a couple of hours.
The Tales of Beedle the Bard
by
J.K. Rowling
My rating:
5 of 5 stars
The version I have of this book contains additional notes by Professor Albus Dumbledore and J.K. Rowling which takes it to a whole new level. I love that Rowling took time to create actual books that were mentioned in the Harry Potter series. It just takes everything to another level! The tales themselves were much like Muggle fairy tales, but for me, what put this over the top is reading Dumbledore's thoughts about them. Albus Dumbledore's "notes" were included after each story in the book.
Quidditch Through the Ages
by
J.K. Rowling
My rating:
3 of 5 stars
While I am admittedly fascinated that J.K. Rowling wrote these books discussed in the Harry Potter series, this one was definitely not my favorite. It was interesting to read a little bit about the history of Quidditch. But it just didn't strike me the way that "The Tales of Beedle the Bard" or "Fantastic Beasts and Where to Find Them" did.
No matter, this is definitely a must-read for Harry Potter fans!
Fantastic Beasts and Where to Find Them
by
J.K. Rowling
My rating:
4 of 5 stars
I was actually surprised that I liked this one so much! Obviously, a replicated text book from Hogwarts, it didn't sound truly thrilling. BUT it was fun to read about the many different magical creatures, their locations, and their danger classifications. What put this book over the top for me are the handwritten comments and drawings by Harry & Ron.
Definitely a fun and easy read!
Avenue of Spies: A True Story of Terror, Espionage, and One American Family's Heroic Resistance in Nazi-Occupied Paris
by
Alex Kershaw
My rating:
3 of 5 stars
This was my most recent Blogging for Books pick. So I did write a separate post for that one. You can see my full review
here
.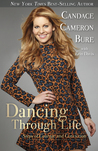 Dancing Through Life: Steps of Courage and Conviction
by
Candace Cameron Bure
My rating:
5 of 5 stars
I love Candace Cameron Bure! I really do! I listened to this book via Audible, and I didn't want to stop.
Though I've never seen Dancing with the Stars (I want to watch a season now!), I loved hearing about Candace's journey as a contestant on the show. It was inspiring how she shares her journey and how she managed to be a shining example of the Christian Faith as she performed. Throughout the process, Candace maintained her integrity and convictions as a Christian woman, and she was not afraid to share the times where she was falling short! She gives great reminders and ideas (backed up with scripture) for ways to stand your ground when the world is against you.
So glad I chose this book for my monthly credit. It was wonderful that she narrated the book as well. Who better to tell your own story than yourself!?
If you're a fan on Candace's, Full House, Dancing with the Stars, or are a woman of faith, this book is for you!
The King's Curse
by
Philippa Gregory
My rating:
4 of 5 stars
Philippa Gregory does it again! Her stories always draw me in. I very much respect that her books come from in-depth research and attention to detail, while creatively filling in the blanks of what is unknown about her heroines.
This is the 6th book in The Cousins' War series, and is told from Margaret Pole's point-of-view. It was especially interesting because this book begins during the reign of Henry VII, with Margaret, cousin to Henry's wife, Elizabeth being at the heart of court. The book spans through to Henry VIII taking Kitty Howard as a wife. I've read about all of the other exploits of Henry VIII in Gregory's other novels. I always enjoy hearing the stories again from another character's perspective.
It was fascinating to read more about Margaret Pole, her life, her family, and her role in English history.
************************************
And there you have the month of August! I set a goal to read 30 books this year on Goodreads.com. I am only 3 books away from reaching my goal, as I have read 27 books so far this year! I am 8 books ahead of schedule, and I am pretty sure that I will surpass my goal for 2015!
Have you read any good books lately?
How are you doing with your reading goals??