Like the new icon?
So here we are, another month come and gone, and my summer vacation is officially over. *sigh*
This gives me mixed feelings.
Either way, it's back to the old grind, and it's also time to share the books I read in August!
Written in My Own Heart's Blood
by
Diana Gabaldon
My rating:
4 of 5 stars
I am so sad to have finished this series. But I can definitely say that I am relieved that things I was expecting (dreading) DIDN'T happen.
I'm giving this 4 stars instead of 5 because I didn't love the ending. It IS open-ended and just left me wanting more. I also feel like it would've been nice to have wrapped up more of the characters' stories.
Overall, though, I absolutely loved this series and am so glad that I read them!
Update: I recently found out that there is a 9th book that Diana Gabaldon is working on! Yay! :)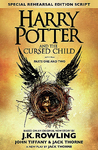 Harry Potter and the Cursed Child - Parts One and Two
by
J.K. Rowling
My rating:
3 of 5 stars
I struggled with my rating for this. I went back and forth between 3, 4, or 5 stars. As you can see, I settled on three, and I suppose since this is a review, it would be good to explain why.
I did not know (because while I love Harry Potter, my life does not revolve around it), that the book would be the script of the play that premiered in London on July 30, 2016. While I liked that it made this a VERY quick read, it didn't have the same depth as the other Harry Potter novels. It did also really make me wish that I could see the play live because I think that would really bring a lot more to the story.
J.K. Rowling did NOT write this book, contrary to the fact that the book cover lists her name first and bigger than everyone else's. So it was certainly lacking her style. Many reviews that I saw basically stated that this read like fan fiction, and I can't say that I disagree.
The characters that we know and love did not really seem to be themselves. Sure, they're adults now, but I feel like their personalities were lacking the depth of the Harry, Hermione, and Ron that I expected. In fact, Draco is the grown up character that I liked the most as he seemed the most like himself.....and improved for the better.
I did like the plot of the story. I enjoyed getting to know Albus Severus Potter and Scorpius Malfoy. Although, Albus does quite seem to act a lot like his dad, Harry, circa
The Order of the Phoenix
, which is my least favorite book of the Harry Potter series. Scorpius was actually a delightful and likable character, despite the fact that he is the son of Draco Malfoy.
As I am a huge fan of time travel, I'm happy to see it as part of this plot, and I like that through Harry's dreams and the time travel we are able to relive some moments that all Harry Potter fans will know and recognize.
Overall, if you're a Harry Potter fan, this is definitely a must read. Even more so, if this production ever comes to the USA, you can be sure I'll find a way to see it!
George
by
Alex Gino
My rating:
3 of 5 stars
I received this book in a Scholastic book order before summer vacation in 2015. I finally got around to reading it before adding it to my classroom library.
It was a quick read for an adult. It is listed for ages 8-12, grades 3-7.
Knowing students as I do, and knowing the area in which I live and teach, if students don't read the synopsis first, they will be very confused as to why the pronouns describing George are female. It is a decent way into the book before the word transgender is even used to describe how George feels.
The book is also listed as dealing with Bullying, but I would disagree. Bullying occurs, but there are no real consequences to the bully, nor do we really see George finding a good way to deal with being bullied.
The book could be good to have on hand simply for the fact that a student may need to read it. But I don't think it really has a moral or lesson for students going through the same issues as George. It really wasn't inspiring and it really didn't lead very far for George. The very last chapter is a start, but I'm not sure that this book would really make an impact.
The Wishing Spell
by
Chris Colfer
My rating:
3 of 5 stars
I wish we could give half star ratings because I would give this a 3 1/2 instead of a 3.
I really quite enjoy stories that add different takes on classic fairy tales, and I may or may not have been obsessed with Disney princesses at a certain point and time in my life. Chris Colfer creates a wonderful fairy tale world and likable characters in Alex and Conner. I am looking forward to continuing their story in the next book of the series.
I'm hoping, though, that Colfer's writing matures as he continues through the series. While I didn't really notice until I was nearing the end of the book, some of the writing just seemed simplistic.
My goal as a teacher this year is to read books aloud and have discussion with my sixth grade students. Sometimes, students struggle with reading and writing, and you're just never too old to enjoy being read TO. This is going to be the first book that I share with my students. I think both boys and girls will like it, and I like the idea of reading introductory books to those in a series in the hopes of inspiring them to continue reading more!
View all my reviews
I'm feeling very good about my progress this month! I am now 3 books ahead of schedule on my Goodreads challenge to read 40 books this year. As the beginning of the school year has arrived, I'm going to need that! HOWEVER, Audible had a sale going on this month to get 2 books for one credit, and I bought the extra credit to take advantage. Then with my regular August credit, I added one more book. So I've got 3 audio books lined up, which I'm very excited about!
So what have you read this month?
What's on your reading list?