Have I mentioned how much I love summer vacation?
I'm sure I have.
I get so much more accomplished during summer vacation than I do while school is in session. My house starts to come to order, and I actually have time to curl up with a good book, and read. I need to make up for some lost time in order to meet my 40 book Goodreads Reading Challenge goal! The good news is that after this month, I am back to being ahead of schedule, and I've hit the 50% mark!
Here's what I read in June:
In a Different Key: The Story of Autism
by
John Donvan
My rating:
3 of 5 stars
This book took me forever to read. You can see my full review in my special
Blogging for Books post
.
The Nightingale
by
Kristin Hannah
My rating:
4 of 5 stars
I listened to this book on Audible, and at first, I thought I was going to be returning it and getting my credit back for another book. BUT I stuck with it, as I usually do, and I actually really ended up enjoying this book.
It's definitely great WWII historical fiction, and it's worth a read (or listen) if you like both historical fiction OR stories about WWII. The Nightingale shares some of the awful aspects of living in France during the Nazi occupation. The characters are well developed, and I found myself wanting to know how everything worked out in the end.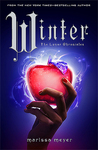 Winter
by
Marissa Meyer
My rating:
5 of 5 stars
After reading my last book (
The Story of Autism
), which was incredibly tedious, it was wonderful to read the conclusion to The Lunar Chronicles!
Melissa Meyer wraps up the series with an exciting and satisfying conclusion. I loved it!
Fairest: Levana's Story
by
Marissa Meyer
My rating:
4 of 5 stars
As a good prequel should, Fairest certainly makes clearer the story of Levana, Queen of Luna.
It wraps the entire Lunar Chronicles series up by providing more background on the Queen and how she became the villain of the series.
How to Raise an Adult: Break Free of the Overparenting Trap and Prepare Your Kid for Success
by
Julie Lythcott-Haims
My rating:
5 of 5 stars
I had SO many thoughts on this book, that I reviewed it in a separate post, which you can see
here
.
Dropped Third Strike: A Portland Pioneers Novel
by
Micah K. Chaplin
My rating:
4 of 5 stars
I also wrote a separate review of this book and included an interview with the author herself! Be sure to check it out!
View all my reviews