It's been awhile since I've linked up with
Elizabeth
&
Jane
for Menu Planning Monday. I've been a total slacker in regards to both blogging AND meal planning lately. Summer is almost here, and I'm feeling revived about my blog again, so I'm excited to be linking up this week.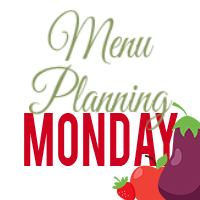 On this speical day to honor the men and women who have laid down their lives for our freedom, I am also thankful to spend time with my family. This morning, I sang in a Memorial Day parade. At 2:00, my family is meeting for a cook out. I'm sure the menu will include but not be limited to: hamburgers, hot dogs, and
potato casserole
. I know the casserole will be there because I'm bringing it. lol My family always makes a bunch of great food, so I'm excited! I will probably not feel the need to eat dinner after this. :)
BBQ Ribs with Corn on the Cob
I will be at a state conference with some other teachers on Wednesday. Scott is on his own. I'll be eating at a restaurant.
Salsa chicken with corn and mashed potatoes
I feel the need to have lasagna. I'm thinking of making it on Saturday. I LOVE lasagna, and I haven't made it in awhile.
I'm not sure exactly what we're having yet, but I bought ingredients to make potato salad. I plan to have something with potato salad on the side.
What will be cooking in your kitchen this week?
Also sharing at Mostly Homemade Mondays on Homegrown & Healthy