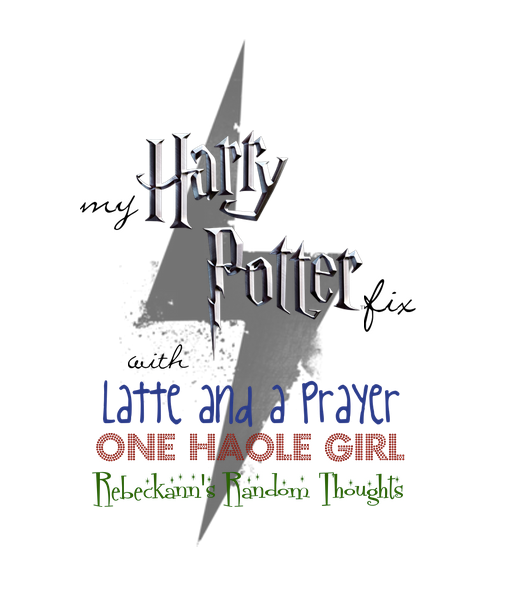 I'm so excited for another round of "would you rather" questions this week, but before I get to my thoughts, please remember a few things:
1. Follow
Kim
,
Tarole
, and me.
2. Post about Harry Potter and link up below.
3. Share the love via Facebook, Twitter, Pinterest, and whatever other social media you love!
4. Visit the other blogs to check out their answers.
So here we go!
Would you rather.....
....be a werewolf like Remus Lupin or a ghost like Nearly Headless Nick?
While there's something to be said for flying through walls, I'd have to go with the werewolf. Of course there are some pretty serious drawbacks, but at least when you're not being disfigured by the moon, you can enjoy things....like food.
...have Hagrid or Dobby as a friend?
Oh wow. This is a really difficult one for me. I LOVE Dobby. I think I would have to pick Hagrid, though. Dobby tends to cause more trouble when he's trying to help. Hagrid would probably be better at getting me OUT of trouble than creating more for me.
...spend an afternoon at the Burrow with the Weasleys or in Diagon Alley?
I do love the Weasleys, but assuming that they'd probably be with me, I'm going to go with Diagon Alley. Sure, it would be cool to stay at the Burrow for a visit, but oh, the things there are to see and do in Diagon Alley! :)

...play Quidditch or Wizard's Chess?
I have to go with Quidditch here. I'm sure chess would be much more exciting in the Wizarding World, but Quidditch is definitely the most exciting of the two. I doubt I'd be any good, but it would be fun!
...have a pet Hippogriff or a Phoenix?
Hippogriffs are rather large and would probably be a bit inconvenient as a pet. So even though Buckbeak is cool, a Phoenix is WAY more awesome in my opinion!
What are your thoughts?? Be sure to link up below!