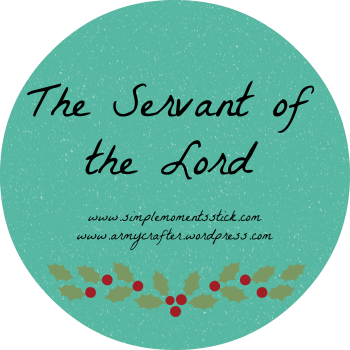 On Friday, the lovely
Susannah from Simple Moments Stick
hosted her monthly Faith & Fellowship link up. This month's topic is "The Servant of the Lord." It is so fitting for this time of year to reflect on Mary and how she so willingly and without question accepted God's plan for her.....
....carrying a baby when she was an unmarried virgin woman.
Whoa.
In case you're not aware, that was kind of a huge "No, no" back in Mary's time.
Here's what happened:
"God sent the angel Gabriel....to a virgin pledged to be married to a man named Joseph, a descendant of David. The virgin's name was Mary. The angel went to her and said, 'Greetings, you who are highly favored! The Lord is with you.'
Mary was greatly troubled at his words and wondered what kind of greeting this might be. But the angel said to her, 'Do not be afraid, Mary; you have found favor with God. You will conceive and give birth to a son, and you are to call him Jesus....'
'How will this be,' Mary asked the angel, 'since I am a virgin?'
The angel answered, 'The Holy Spirit will come on you, and the power of the Most High will overshadow you. So the holy one to be born will be called the Son of God....'
'I am the Lord's servant,' Mary answered. 'May your word to me be fulfilled.'"
(Luke 1:26-31; 34-35; 38 NIV)
Mary doesn't go all.....human....on the angel. She only asks one question. She wants to know how it will happen since she's a virgin. She
doesn't
ask, "Are you sure the Lord wants me?" or "Do I have to?". She
doesn't
say, "That sounds nice, but no thank you." or "But what will everyone think about me?". She
DOES
say, "'I am the Lord's servant....May your word to me be fulfilled."
What does this have to do with music, since it is, in fact, Music Monday?
I sang this song in church on Sunday. It's called "You're Here". It's a song by Francesca Battistelli, and it's about Mary on the night Jesus was born.
Of course, we don't know for sure if Mary knew the ultimate sacrifice that baby Jesus would pay by dying on the cross to save our sins, but she sacrificed her reputation, the possibility of losing her fiance, and her body to bring the Savior into the world.
Without question.
If only we could be the humble Servants of the Lord that Mary was.