One day, I was checking my e-mail as usual when I got an e-mail from Goodreads.com. It stated that
Eat, Pray, Love
was available to me for free with a 30 day trial of Audible by Amazon.com. This book was on my "To Read" shelf (which is why I'm assuming that I got this e-mail), and since it was free, I figured I'd give it a try.
I'm pretty sick of my music lately, and since
I won't allow myself
it's too early to listen to Christmas music yet, I need
something
to do in the car. I'll admit. I was a bit concerned about listening to a book. I have a Bible app that I use for my daily Bible reading, and sometimes, I use the listening feature so that I can listen while I get ready for bed, and my mind tends to wonder. But in the car, with nothing to do but watch where I'm going, this turned out to be a great experience!
Here's the book synopsis from Goodreads.com:
In her early thirties, Elizabeth Gilbert had everything a modern American woman was supposed to want--husband, country home, successful career--but instead of feeling happy and fulfilled, she felt consumed by panic and confusion. This wise and rapturous book is the story of how she left behind all these outward marks of success, and of what she found in their place. Following a divorce and a crushing depression, Gilbert set out to examine three different aspects of her nature, set against the backdrop of three different cultures: pleasure in Italy, devotion in India, and on the Indonesian island of Bali, a balance between worldly enjoyment and divine transcendence.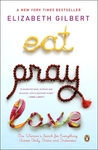 Eat, Pray, Love by Elizabeth Gilbert
My rating: 4 of 5 stars
I have to start by saying that I really did enjoy this book. I had heard it was good, and I added it to my list for that reason alone. Truth be told, if I had known that it was a memoir about a person that I had never heard of before, I probably would not have ever picked it out.
I enjoyed following Liz on her journey. Since I listened to this book on Audible, I particularly enjoyed Elizabeth Gilbert's narration of her own story. It amazed me that each place she journeyed in the story corresponded with a word from her title. Italy was about eating. India was for prayer, and Bali was where she began to figure out love again.
******************************************
I won't lie, I could kick myself for not writing this review sooner. I wanted to do it right away, but life got in the way. There were parts that I really loved and a few things that I didn't like, but I can't remember what things I specifically wanted to comment on.
Either way, I enjoyed this book, and I would recommend it if you're looking for a good read (or listen!).